On September 6, 2017, Erin and left Seattle to climb the East Buttress route on Mt Whitney. The route is 11 pitches and is rated 5.7. This was my first big alpine climb and, although the route isn't technically difficult, this trip pushed me. There was more route finding complexity and mental obstacles to overcome for me.
If you're comfortable on 5.7 trad and are looking for a true alpine experience this is a great climb. The climbing is a blast, the views/exposure are incredible and you get to top out at the highest point in the lower 48 – pretty sweet!
Our Itinerary
Wednesday, September 6:

Flew from Seattle to Las Vegas.

Thursday, September 7:

Picked-up permits from Eastern Sierra Interagency Visitor Center in Lone Pine (note that permits must be reserved in advance); picked up a bear box, which is required for camping in the Whitney area; hiked from the Whitney Portal to our basecamp at Iceberg Lake.

Friday, September 8:

Climbed the East Buttress, starting out around 8:30 am. Descended via the Mountaineers Route back to Iceberg Lake where we spent the night again.

Saturday, September 9:

Hiked out and drove back to Las Vegas.

Sunday, September 10:

Day of Sport Climbing at Red Rocks Canyon

Monday, September 11:

Flew back to Seattle
We budgeted for an extra day in case of weather. Luckily the weather was good so we had an extra day to take advantage of some cragging at Red Rocks Canyon.
Gear
Pretty standard stuff. Check out the entire packing list here.
60m rope

Light single rack to 3 inches

Set of stoppers

Lots of slings

Webbing
Approach
After picking up our climbing permit and a bear box in Lone Pine (required for camping) we hiked from the Whitney Portal (8,374') to Iceberg Lake (12,621'). Most of the time there was a trail to follow and plenty of water from the lakes and runoff. We came across one other party of 5 who were camping at Upper Boy Scout Lake, but we chose to press on to Iceberg Lake. From car to camp it took us 6 hours.
Climbing
At 8:30 am the next morning we started the short hike up to P1. We had to hunt around for the start for a few minutes, but eventually we found P1 and started the ascent. Note that if you've gone up to the saddle you've gone too far. Downclimb 50' or so and traverse looker's left to the arete. This where P1 starts.
Once we were on route we swapped leads and made our way up. There was some route-finding to be had, but everything was fairly straightforward and a lot of fun.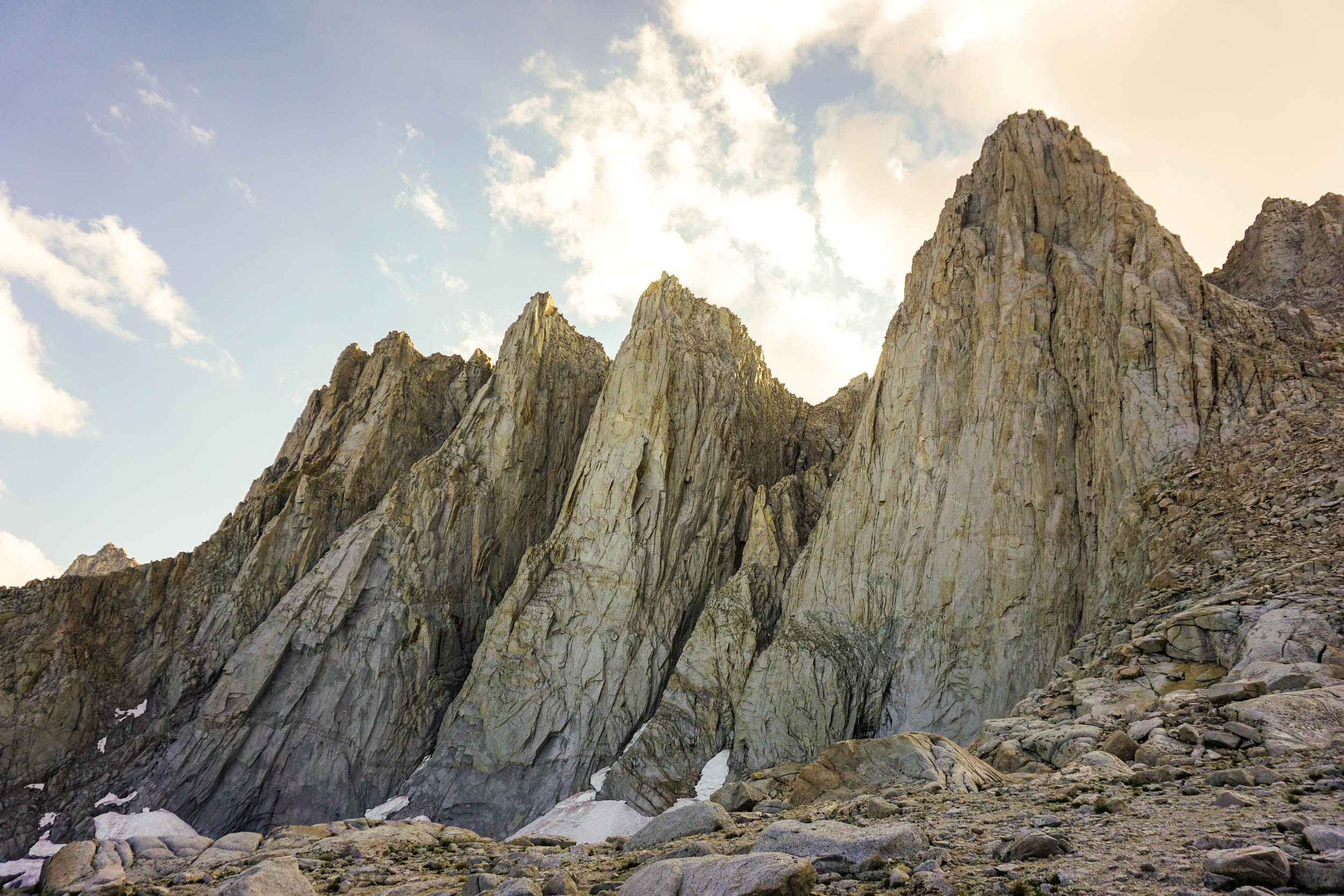 We simul-climbed/scrambled the last three pitches and found it a bit challenging to navigate the final scramble to the top. It's a choose your own adventure up there, and it's just a matter of finding your preferred path. We ended up going to the south across some big boulders and working our way up. At this point a thunderstorm rolled in and it started to snow, which was a little unnerving! Usually, this wouldn't be a problem, but due how late it was getting in the day, it was an added stress.
Around 5 pm we reached the summit and surprisingly had the whole place to ourselves. We spent about 20 minutes at the top for a snack and photos then headed out.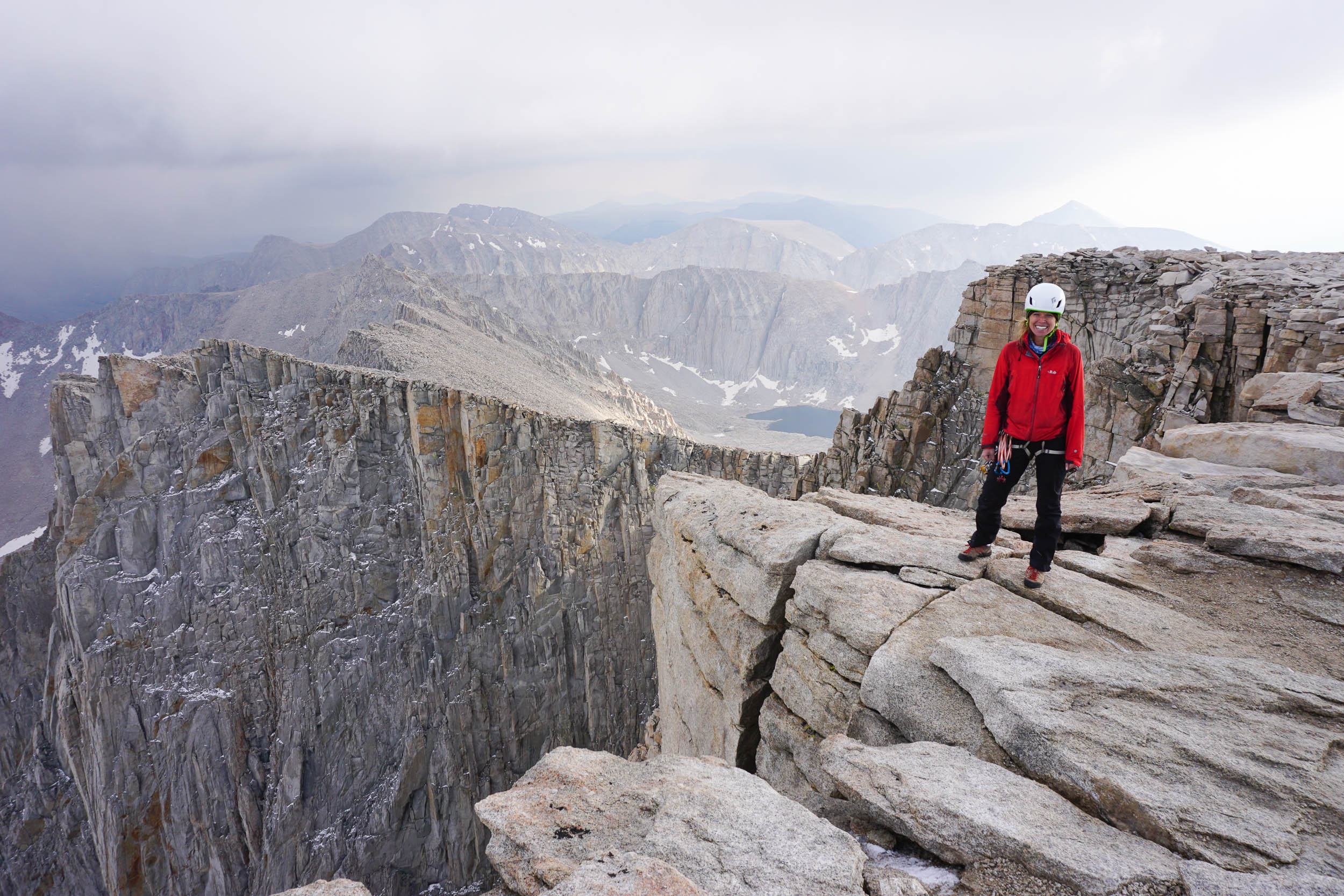 Descent
Heading north we found the mountaineers route and navigated down through boulders, steep loose rock and scree. It was pretty late in the day and darkness came quickly. As we made our way down, lighting cracked overhead (really scary). Most years the mountaineer's route is free of snow by September. In the most recent research trip reports we didn't come across any mention of snow, so we had not anticipated needing crampons or an ice axe. Surprising, the entire second half of the gully was filled with icy frozen snow, which greatly slowed our descent. Because of the snow, darkness and only have approach shoes we had to set up 3 rappels to make it safely down the snow filled gully.
I was lucky to have Erin as a partner. She has done a lot more alpine climbing and her experience came in handy. When you're at your limit and the shit goes sideways, and it will eventually, you're not thinking clearly and can make mistakes. This was one of those moments when I was really grateful to have a climbing partner (soon to be wife, woohoo!) who had a clear head and the experience necessary to get us safely down the mountain.
We made it back to camp around 9pm, exhausted but happy, and enjoyed a warm meal before crashing. The next morning we hiked back out to the Whitney portal.
Beta
Bring printed photos and descriptions of the route and make sure both people have them. This will be a huge help to you on this climb.

We also brought walkie-talkies, which were super important for communication. Most pitches the lead couldn't communicate with the belayer by shouting as it was often windy.

There can be a TON of rope drag. Bring lots of slings.

There was a lot of snow on the Mountaineers Route, which we were not prepared for in September. This ended up being pretty challenging in approach shoes without crampons or ice axes. We made it work, but it was sketchy at best. Nobody wants to haul up extra gear, so deciding on this is always a judgement call, but check route conditions with the ranger beforehand so you know what to expect.

Bring extra slings. Webbing and rap rings came in handy on the descent.

Thunderstorms typically come from the west, which means you won't be able to see them coming from camp or the climb. There is no good way to bail from this route if the weather gets bad. We noticed some webbing that would indicate that previous parties may have bailed off the north side into the mountaineer's route, but this did not appear to be a safe option.
Helpful Resources
You need a permit to climb this route and it's first come, first serve (unlike the hiking lottery). You want North Fork of the Lone Pine, overnight Mt Whitney permit.